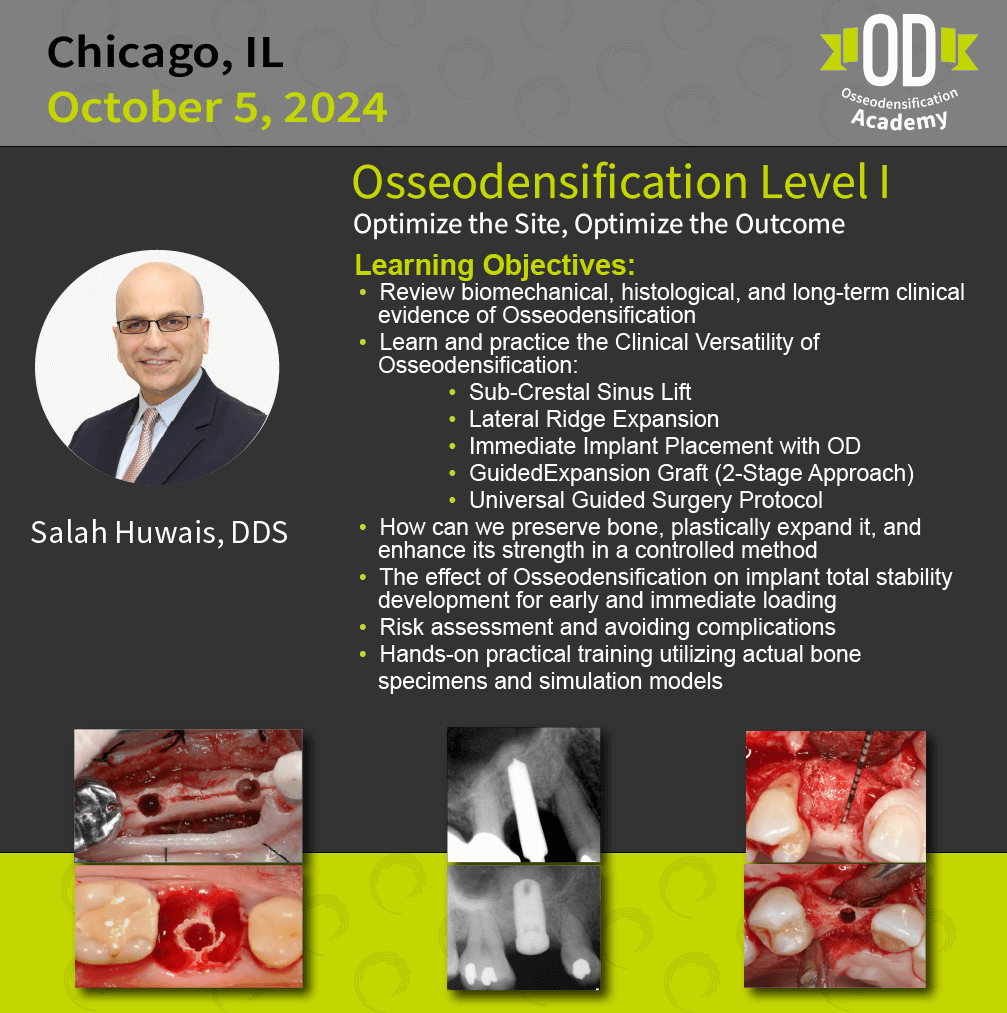 Location 1:
The Summit 205 N. Michigan Ave 10th Floor
Chicago, IL 60601
CE Credits Hours: Total 7 Hours (3 hrs Lecture – 4 hrs Participation)
This whole-day training will minimize the learning curve and help understand the science behind Osseodensification.
Didactic Scientific learning and Hands-on Practical Training.
The program requires 4 hours of didactic scientific education and clinical cases review as well as additional 3 hours of hands-on simulation with actual bone specimens and simulation models.
This course teaches the clinical Versatility of Osseodensification utilizing the Densah® Bur Technology
Compaction Autografting technique.
Review Densification Guide for any implant system.
Site optimization utilizing the Densah® Bur to increase Implant Stability.
Sub-Crestal Sinus Autografting, Lateral Ridge Expansion, Immediate Implant Placement, Guided Expansion Graft Procedures.
Densify After Cut (DAC) Protocol.
Universal Guided Surgery Protocol.
Learning Objectives:
Review biomechanical, histological, and long-term clinical evidence of Osseodensification
Learn and practice the Clinical Versatility of Osseodensification:

 Sub-Crestal ​Sinus ​Lift
Lateral ​Ridge ​Expansion
​Immediate ​Implant ​Placement ​with ​OD
Guided ​Expansion ​Graft ​(2-Stage ​Approach)
Universal ​Guided ​Surgery ​Protocol
How can we preserve bone, plastically expand it, and enhance its strength in a controlled method
The ​effect of ​Osseodensification ​on ​implant​total stability development for early and immediate loading
Risk ​assessment ​and ​avoiding ​complications
Hands-on practical training utilizing actual bone specimens and simulation models
SCHEDULE
8:00am-8:30am: ​ ​ ​ ​ ​ ​ ​ ​Continental ​Breakfast ​(provided ​by ​Versah) / Registration ​
8:30am-10:15am: ​ ​ ​ ​ ​ ​Didactic ​Learning
10:15am-10:30am: ​ ​ ​ ​Break ​
10:30am-12:00pm: ​ ​ ​ ​Osseodensification ​Clinical ​Protocols ​I
12:00pm-1:00pm: ​ ​ ​ ​ ​ ​Lunch ​(provided ​by ​Versah)
1:00pm-2:00pm: ​ ​ ​ ​ ​ ​ ​Osseodensification ​Clinical ​Protocols ​II
2:00pm-4:00pm: ​ ​ ​ ​ ​ ​ ​ ​​Hands-on ​simulation ​practical ​training
Actual ​bone ​specimen ​model ​ ​ ​ ​
Osseodensification clinical procedures and protocols will be practiced in a simulation model
 4:00pm-5:00pm: ​ ​ ​ ​ ​ ​ ​ ​Complications ​and ​Discussion