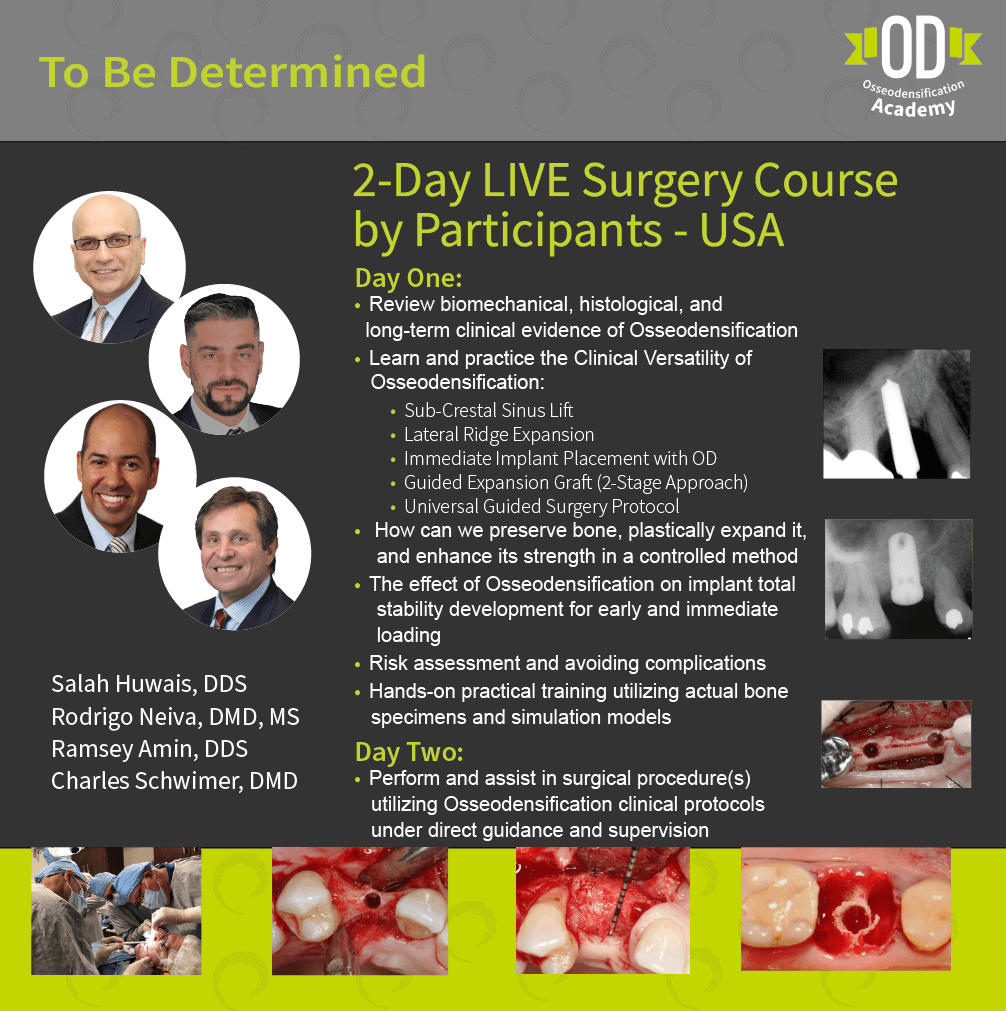 CE Credits Hours: Total 14 Hours
Prerequisite for this course is Osseodensification Level 1
The program includes didactic scientific lecture, clinical cases review and treatment planning, as well as additional 3 hours of hands-on simulation with actual bone specimens and specially designed models to simulate Osseodensification.
Course Outline: 
1-    Compaction Autografting technique.
2-    Review Densification Guide for any implant system.
3-    Site optimization utilizing the Bur to increase Implant Stability.
4-    Sub-Crestal Sinus Autografting Procedure.
5-    Densify After Cut (DAC) Protocol. (DAC)
6-    Ridge Expansion and the Plus1® Protocol.
7-    Universal Guided Surgery Protocol.
Participants should be able to:
I- Understand the scientific principal of Osseodensification
1. Discuss its effect on implant stability.
2. Learn how bone preservation with adequate instrumentation can optimize the implant site.
II-  Discuss the Biomechanical validation of Osseodensification.
III- Learn how to optimize their implant practice to Create More with Less.
Perform and assist in surgical procedure utilizing osseodensification.
Each participant will have the opportunity to perform and assist in at least two surgeries with up to 2 implants placements utilizing osseodensification clinical procedures under direct guidance and supervision.
Learning Objectives:
Day One:
• Review biomechanical, histological, and long-term clinical evidence of Osseodensification
• Learn and practice the Clinical Versatility of Osseodensification:
• Sub-Crestal Sinus Lift
• Lateral Ridge Expansion
• Immediate Implant Placement with OD
• Guided Expansion Graft (2-Stage Approach)
• Universal Guided Surgery Protocol
• How can we preserve bone, plastically expand it, and enhance its strength in a controlled method
• The effect of Osseodensification on implant total stability development for early and immediate loading
• Risk assessment and avoiding complications
• Hands-on practical training utilizing actual bone specimens and simulation models
Day Two:
• Perform and assist in surgical procedure(s) utilizing Osseodensification clinical protocols under direct guidance and supervision
Schedule
Day One:
Full day didactic scientific learning with hands-on training utilizing actual bone specimen and clinical simulation models as well as treatment planning next day surgeries.
7:30am-8:00am: Continental Breakfast
8:00am-10:30am: Didactic Learning
10:30am-10:45am: Break
10:45am-12:00pm: Review of Osseodensification Clinical Protocols
12:00pm-1:00pm: Lunch
1:00pm-3:00pm: Hands-on simulation practical training. Review Clinical Cases and Discussion
Day Two:
Whole day performing and assisting in surgical procedure utilizing Osseodensification.
7:30am-8:00am: Continental Breakfast
8:00am-12:30pm: Surgical Procedures
12:30pm-1:30pm: Lunch
1:30pm-5:00pm: Surgical Procedures
5:00pm-6:00pm: Surgical Review