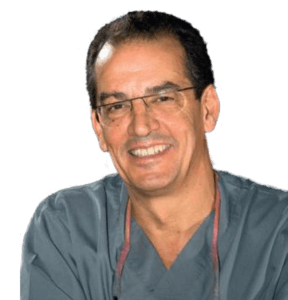 Dr. Carlos Aparicio
Summa Cum Laude in Medicine & Surgery, 1978 Navarra U. Dentist 1983 Barcelona U.  Dental Laboratory Technician, 1983 Ramon y Cajal School Barcelona. Diploma in Implant Dentistry at Gothenburg U. Sweden 1984. Master Degree in Science of Materials in 1990 Barcelona U. Diploma in Periodontics at Gothenburg U. Sweden 1995.
Master in Biomedical Research in 2010 Barcelona U. PhD Summa Cum Laude, international mention on "Zygomatic Implants: the State of the Art and Zygomatic Criteria for Success" 2013. Visiting professor at different universities. Editor of the book "Zygomatic Implants: the Anatomy-Guided Approach".
Fellow researcher within the Handicap Research Group, Department of Biomaterials at the U. of Gothenburg. Referee at European Journal of Oral Implantology and Clinical Implant Dentistry and Related Research. Past-President of the Osseointegration Foundation of the American Academy of Osseointegration. Board member of the European Academy of Osseointegration EAO 2004-2006, Founder president of the Spanish Society of Minimally Invasive Dentistry. Fellow of the Royal Society of Medicine England.
Nominated as Academic at The Royal European Academy of Doctors in 2016. Founder of the Zygoma ZAGA centers Network. Currently is sharing his knowledge as Zygomatic Implants Senior Consultant at Hepler Bone Clinic, Barcelona Spain.